// What about green design ?
Par Carmen Bouyer
Design durable et écologique, Comment faire?
Les réponses proposées au Salon du Meuble de Milan 2010 :
. Créer des objets modulables à l'infini, l'utilisateur assemble les différentes pièces du meuble à sa guise s'appropriant ainsi l'objet de façon intime puisqu'il devient sa propre création :
La FABRICA: The Down Side Up project
"Down Side Upis a change-inspired collection of wood furniture. An encounter between experimentation and consumption, where design challenges shapes, volume perception and directions to create objects with constantly varying functions and interpretations."
http://www.fabrica.it/project/down-side-up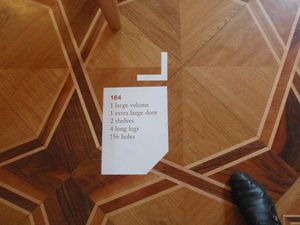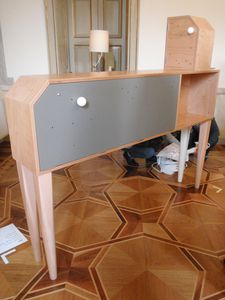 "'Oblique'is sophisticated storage system designed by fulo, a cooperative trademark
of designers based in guthenberg, sweden. like building blocks, you can choose
the combination in which you want to reconfigure the shelf and customize its appearance.
if a box can be placed in eight different directions, imagine how many different direction
combinations can be achieved out of ten boxes. the design also plays with light in the room
and creates the illusion of shades of color on its body."
http://www.designboom.com/weblog/cat/8/view/9169/fulo-oblique.html
. Proposer des modes d'emploi, le D.I.Y : Do It Yourself Design. En annulant toute la pollution engendrée par la chaine de production , et de vente, le Design fait maison offre des perceptives pour le design du futur à condition d'être un brin bricoleur !
RECESSION DESIGN : Not at home project
"An event-provocation on the theme of "DIY DESIGN" that ironically (but not too much) presents a way of "designing" that goes beyond current trends and returns the object's essential form and function to the forefront. Recession Design is a collection of objects created using everyday DIY products that are processed and assembled using common utensils and accessories. Featuring a design that is clean but not banal, essential but not meager, the objects show how a good project can result in high-level design, even with the use of readily available materials and utensils."
Instructions: http://www.abitare.it/wp-content/uploads/2010/04/instructions.pdf
http://www.recessiondesign.org/pdf/instructions_2010.pdf
http://www.recessiondesign.org/2010.php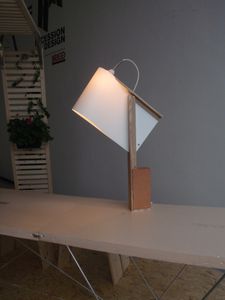 5.5 DESIGNERS : Cuisine d'objets
http://www.cinqcinqdesigners.com/gb/home.php?rub=actualite*aa*srub=actus
. Recycler des objets déjà existants pour en créer de nouveau, place aux objets hybrides :
DANESE MILANO : Waste.not
« WASTE.NOTproject is part of a necessary mission (considered a utopia by many) that aspires to regenerate existing resources - materials, work and thoughts - previously employed. It is the motion of a set of new industrial grammatical foundations based on technological assets (moulds, technical and shape approaches etc.), on which the company has invested through time, and out-of-catalogue second-choice materials. Rearranging shape and functional brand genes makes object "biodiversity" preservation possible, producing new hybrid products or perhaps chimeras. Small "divine monsters" suggesting ad hoc new operational and aesthetics functions come into being. Such functions are prompted by daily requirements and utopias and they expand in a continuous hybridization process that addresses human behaviors as well as animal and vegetable kingdoms.
Chimeras (from Greek, goat) as mythological figures have helped identify a good example of regeneration process that became the logo for Waste.not project.
Waste.not does not concern "recycling" waste to obtain new raw materials. Actually, it is about "regenerating" existing goods and recreating them into new products thanks to practical and intellectual creativity: ashtrays turned into micro gardens, coat hangers that become anti-hunting trophies, bookshelves that are converted into home vegetable gardens. Danese firmly believes that it is possible to appreciate objects only if we deeply comprehend ourselves and our surroundings. Silently, things create lasting concept synapses between human civilizations and nature."
http://www.danesewastenot.com/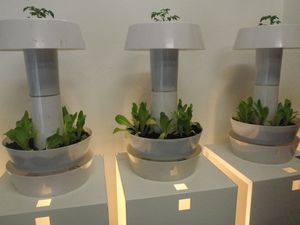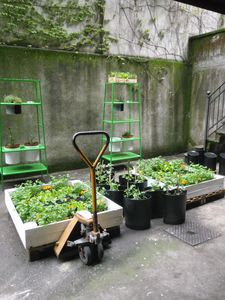 « Salvaged items fit together like pieces of a contemporary puzzle when making up Armadiature by Robi Renzi for Renzivivian. These cupboards perform different functions, acting as small home offices or mobile bars, as well as traditional storage units."
http://mocoloco.com/fresh2/2010/03/25/armiadiature-by-renzi-reale.php
CHARLES KAISIN: Design in motion
" Charles Kaisinis one of the most brilliant versatile artists of his generation. His work is focused on movement, extension and recycling. Experimental in heart and soul, the architect and designer Charles Kaisin presents exceptional works of art, sometimes humorous, but always close to contemporary art, which is one of his passions. Fostered by a hyperactive and insatiably curious mind, he draws his inspiration from life and the world around him, inspired by the old Greek philosophy : "man is the measure of all things".
http://www.charleskaisin.com/flash.htm
" Turning your favourite office tool into a common cutlery item…this is called "din-ink".
A set of pen tops that turns your "writing tool" into a knife, fork and spoon during the lunch break. All tops are made by annually renewable resources, like natural starch and fibres, to be 100% biodegradable, non toxic and hygienic. Dispensing each set of tops in an easily safe compostable wrapping, the whole set is designed to be environment-friendly. «
http://www.djibnet.com/photo/zoloft/3-din-ink-pen-cutlery-by-zo-loft-2268140161.html
. Utiliser des matériaux naturels bruts, nécessitants peu de transformations:
« Clear lines, geometrical forms and timeless design.Woodloops uses the natural strength and beauty of wood, while at the same time being actively committed to saving the world's forests. The company has been FSC-certified (Forest Stewardship Council) since its inception and uses the maximum amount of FSC-certified material possible, to support and promote sustainable forest management worldwide. Our products renew the world's precious resources, are always of the highest quality in design and craftsmanship and are built to please for many years to come.A majority of the products, for example, is manufactured under strict quality-control in institutions that promote the social- and professional integration of unemployed young craftsmen. Nature's beauty, creativity and self-renewing cycles are the benchmark in everything we do."
http://www.woodloops.de/en/products/furniture/seating.html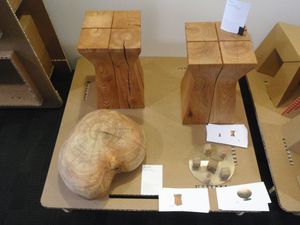 MAX LAMP: The da Lank Granite Chair and Table
"Granite stones are known to be a great material for our floor tiles and kitchen lavatories. A project by Max Lamb, the Granite Chairis made from Chinese green granite andusingradius of the diamond blade, the granite boulder chair is born."
http://maxlamb.org/061_china-granite-project/
"The lamp embodies a process of evolution, detailing the story from a raw material into a mechanically cultivated one. The central idea is to introduce the material—wood—in its different stages of work progress, from the undressed piece into its manufactured parts. The Lamp begins with an untouched base, which is lathed into a baroque curve from which the machine cut stock extends, then concludes in a simple light fixture. The concept continues with the addition of the paper lampshade, with a subtle wood grain texture hinting to the authentic wood from which it came. The work process of the lamp ultimately returns both metaphorically and physically back to its beginning."
http://www.dezeen.com/2010/01/15/lamp-love-by-klara-sumova/
. Encourager les artisanats locaux, durant toute la foire j'ai remarqué cette tendance identitaire avec des stands Danois, Hollandais, from Taiwan… chacun voulant mettre en valeur son unicité culturel à travers un design très novateur inspiré par l'artisanat de toujours.
TAIWAN CRAFT : The making of Yii
" The Director of the Taiwan Craft Research Institute, Mr. Jeng-Yi Lin, states, "Facing the growing global trend stressing environmental consciousness, craft contains development potential through combining human intelligence with respect for the laws of nature. In recent years, the Taiwan Craft Research Institute adapted "ECO Arts" – the contemporary value of life and the craft aesthetic – striving to enrich cultural content, environmental feel and creative design. Another goal is to provide life value to those with busy yet monotonous lives with the knowledge to live simply and environmentally."
"Yii"- pronounced as the letter E – is derived from three Chinese characters. One character represents the central ideas in Eastern philosophy: the sun and moon, yin and yang and the changing and unchanging laws of nature. Another reflects exquisite craft and the last one stands for original design. Part of yii's ideology is "transformation," aiming to transform traditional Taiwanese crafts in the contemporary context through design. Additionally, there is "respect"; the majority of the pieces are handcrafted to exclude the burden placed on the environment through the manufacturing process. Finally, "fusion" - between cultivation and nature, designer and producer, user and creator, traditional and contemporary, east and west, all forming a harmonic relationship as a starting point in pursuit of exceptional quality."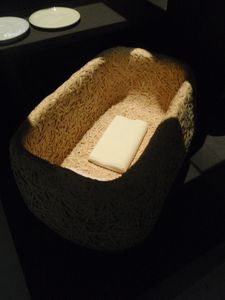 " Poland is a very important player amongst the most renowned international furniture producers. An expertise that has been living through a long tradition which have been bought by various brands. Today, a fundamental change is happening, Polish companies are opening to an international arena by promoting their own brands and proposing their vision of what design is."
http://www.youngcreativepoland.com/
"A small, wooden church built on a high bank of Vistula River, in a small village of Tarnów, by a private investor (which is quite uncommon in Poland). The church serves as a place of meditation and prayer for the local community. It is constructed entirely of wood, with no windows except for one glass wall, which serves as a background for the altar."
http://www.dezeen.com/2009/06/06/church-by-beton/
Sustainable design in the NETHERLANDs
http://www.o2nederland.org/main.asp?pid=3&iid=413
. Repenser le design et ses frontières, redéfinir le rôle du designer, éduquer à de nouveaux systèmes de production et de communication.
INSTITUTE WITHOUT BOUNDARIES Toronto Canada
" Founded in 2003, the Institute consists of a post-graduate program that teaches collaborative design strategy to professionals from diverse backgrounds, a research division that develops projects around curriculum projects and a commercial division that delivers professional design consultation based on Institute methods.
Our inaugural project, Massive Change, explored and sparked a discourse on the future of global design. Our second project, World House, confronted the necessary evolution of shelter by developing housing systems based on principles of sustainability, accessibility, technological responsiveness and ecological balance. In 2007, a model prototype of the World House was constructed and would later be developed into the Canühome, a sustainable wood dwelling that premiered at the Green Living Show in 2008.
At the Institute we see the designer as a problem solver with the ability to effect positive change for humanity. We are a place where students, teachers, industry and community experts can come together not only as creators and designers, but as ambassadors of hope. We imagine how to live, learn, work, and play together as a global community and seek alternative development patterns and a viable path to a bright future.
The School has pioneered an educational approach based on design
thinking, practice and culture, and fulfills this vision by developing research publications, exhibitions and practice laboratories where students work on real projects for non-profit and community clients."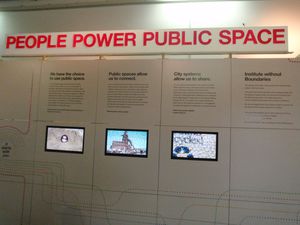 How to co-operate ?
How to ask questions ?
How to listen ?
How to write ?
How to think?
How to fail well?
How to throw away good ideas?
How to generate better ones?
How to communicate?
How to present?
How to make mistakes?
How to lead?
How to manage projects?
How to create change?
http://www.institutewithoutboundaries.com/
. Mettre en valeur la nature, les potagers communs, les poulaliers d'appartement, les cuisines autosuffisantes, les kit de jardinages fleurissent. La nature s'apprivoise mais combien de temps vont vivre ces salades vertes fluo qui ornent les stands?
STUDIO GORM: Flow Kitchen
"Flow and the Kitchen of terrestrial Mechanics is a living kitchen where nature and technology are integrated in a symbiotic relationship, processes flow into one another in a natural cycle, efficiently utilizing energy, waste, water and other natural resources. It provides a space not only for preparing food but an environment that gives a better understanding of how natural processes work. A kitchen where food is grown, stored, cooked and composted to grow more food. »
http://www.studiogorm.com/flow_kitchen.html
" Sunday is a modular space-saving rack, which encourages the home growing of herbs and vegetables while inducing the organ- ized storage of edibles as well as kitchen tools and appliances "
KIEREN JONES : Community Commerce
" As the threat of climate change becomes increasingly evident and the world's energy reserves are depleted, self-sufficiency and the way in which we source, produce and manufacture life's necessities will invariably change. Off-grid living will become increasingly attractive and perhaps we will see the emergence of personal micro-farms, new cottage industries and factories within our local communities. One of these factories could be a unit for rearing poultry, providing meat for consumption, but also bones for china and leather for clothing, replacing the activities found in sheds to activities for common trade "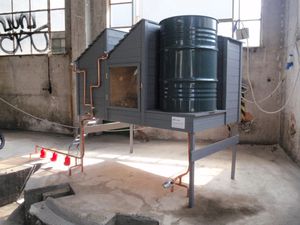 STUDIO ATUPPERTU Gionata GATTO: UrbanBuds
"'UrbanBuds' uses the concept of food as a sign of cultural identity. Every person has his own taste and preferences in choosing the seeds to plant, but the very interesting thing about food concerns the aspect of personalization, since all the people involved in this type of activity visualize their personality through gardening. The design of the project involves the metaphor of a suitcase as a symbol of cultural background "
http://www.atuppertu.com/Products.html
L'orto un giardino che si mangia
http://lortodimichelle.blogspot.com/2010/04/lorto-un-giardino-che-si-mangia.html
l' ORTO-CICLO,
et autres...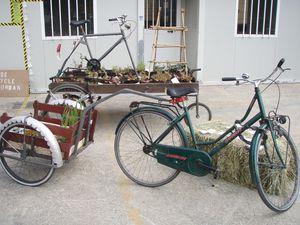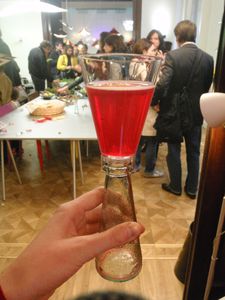 . Faire du design équitable, qui participe au development de petites communautés d'artisants à travers le monde et cherche à réequilibrer la balance du commerce mondial.

PIET HEIN EEK : Fair Trade Originals
" his latest project is a collection of baskets for Fair Trade Originals, made from scrapwood at a small workshop in Vietnam. "
http://remodelista.com/posts/slow-design-fair-trade-originals-from-piet-hein-eek
link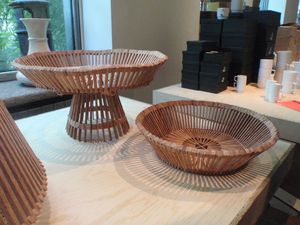 MILAN Ville Ecolo?